Yes, I know it's Sunday. Finals are coming up so I've been a bit preoccupied. Classes end this semester on the 30th and I get a month off which I CANNOT wait for. Anywho, more questions and more answers from me to you brought by My Little Life.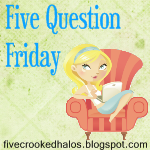 1. Groceries are high right now what is easiest way you have found to cut back?
Buy the bare minimum at full price and stock up on the sale stuff especially if it can be frozen.
2. What are the top 3 things on your "bucket list"?
A. Learn to swim – shocking I know considering I live near the ocean but I haven't a clue.
B. Visit Australia.
C. Skydiving.
3. Would you rather give up AC or heat?
Heat because honestly I barely use it during the winter here but I definitely need that A/C to cut the humidity because that's what will get ya down here.
4. What's your favorite cocktail??
So many to choose from but I'm gonna go with the ole standby of whiskey/diet coke.
5. What was your first job & how old were you?
Taco Bell employee, age 16/17.
Possibly related posts: