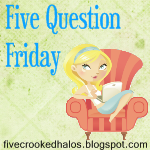 1. Did you do anything special for your kids on the last day of school? Or did you parents do anything special for you?
I do not have any kids but my parents also did not do anything special the last day of school.
2. What's your favorite summer tradition with your children?
I have no children.
3. What was your favorite thing to do during the summer as a kid?
I enjoyed going to Florida to see my great grandparents, grandparents, and uncle.
4. How old were you when you were married? Were you a Bridezilla?
Never married and never going to be.
5. What is your favorite girl name? (I'm needing suggestions.)
I do not really have a favorite girls name but I can tell you do not name your child Hope because she will get teased.
Possibly related posts: