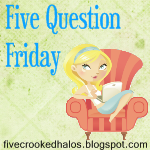 1. What is your best secret cleaning tip?
Not really a cleaning tip but Lysol kills bugs too. I use it on the water bugs I find because I don't like hearing them crunch when I squash them. So I spray them with Lysol and then put something on top of them so they suffocate in a sense.
2. What is your favorite food to snack on during movie night?
Popcorn and Twizzlers.
3. If it was up to you, what would you have named the royal baby?
I honestly have no idea what the royal babies name is now. But how about anything normal like David, John, etc.
4. If you could be any Disney character who would you choose?
Tigger. He's always bouncy and energetic.
5. What's the most important part of a healthy relationship?
Honesty plain and simple. If you don't have honesty what is the point?
Possibly related posts: