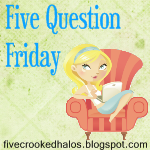 1. Would you rather pay for house cleaner or spa day?
I have never had a spa day so I'm not sure what that would entail. I would love for someone to clean my house and they could spend the entire time cleaning the oven because I can't seem to get it clean.
2. Who plans what gifts you get for holidays, you or your spouse?
Since it is just me that would be me and everybody gets gift cards lol
3. How many hours of sleep do you get? Do you need more?
Good question. I should participate in one of those sleep studies to find out because I'd say about 2-4 hours IF I'm lucky. I'm sure I need more but it won't happen. I just can't sleep at night or in one long stretch at any other time.
4. Do you like your hair long or short?
Long, long, long. My mother made me get it cut in high school very, very short and I hated it and have never had it cut below my shoulders since it grew out.
5. When was the last time you were pulled over and what was it for?
About 2 years ago for speeding. The dash for speedometer, fuel, etc was broken for about 3-4 years because I didn't have the money to repair it as it was almost a grand to get a replacement. I knew I was speeding too but I was tired, it was almost 1 am and I just wanted to get home after a long ass day. The speed limit was 45. I was clearly doing well over 65. The cop asked me if I knew how fast I was going and I looked at him point blank and said I haven't a clue. He only wrote me for 8 over and I was on my merry way.
Possibly related posts: