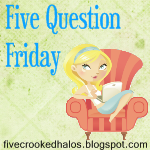 1. Do you wake before the alarm or stay in bed until the last possible second?
I'm always awake before the alarm goes off because I don't sleep at nights. My alarm never really kicks in either before I cut it off. I hear the click and slammed the off button. My alarm is set to go off at the very last second before I'm late so I have to get out of bed when it goes off.
2. Who should get a baby shower? Is it just the first baby or all babies?
I don't know. I don't see why you can't have one for every baby I guess especially if you have a boy/girl on the first one and a different gender for the second.
3. How will you spend Memorial Day?
I will be working. Since I'm not full time at the hospital anymore I don't get that holiday. As a contractor at the college I don't get holidays either so I will be at the college. It should be a very slow day since most everybody will be off as well.
4. Do you have a Storm/Hurricane/Tornado/Fire plan for your kids, house..?
No plan per say. If one comes I'll take the dogs with me and go to the most center of the house on the first floor which will be the bathroom.
5. What is your favorite morning drink?
I don't really have a morning drink. Once I wake up enough I'll usually have a Diet Dr. Pepper or an iced coffee.
Possibly related posts: