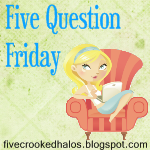 1. Do you have a doppelgänger?
I suppose so since I have a twin.
2. Do you keep your car cleaned up?
Not as much as I used to. I used to wash the outside all the time, now I don't. You won't find trash inside though and my drivers mat needs cleaned more often too.
3. What is a current fashion that drives you crazy.
I'm not into fashion, but for the life of me I still to this day, cannot figure out why the hell women would want to wear high effin heels.
4. How often do you go grocery shopping?
Couple times a week if I have money because I like buying fresh veggies and fruits.
5. What has been the best surprise of your life?
Probably that I finally got my 2 degrees.
Possibly related posts: