On Saturday!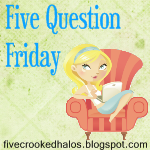 1. What's the one personal hygiene thing you will not do in front of your spouse?
N/A.
2. What's your favorite thing about a newborn?
Their playfulness and how everything they see is new to them.
3. When is "too young" to have a Facebook account?
Pre high school age. Just like I think cell phones shouldn't be given to children before they hit high school. But then again, why does one even need a facebook account? I don't have one and don't want one either.
4. What are your hoping for for Mother's Day?
It will be just me and the dogs so quiet comes to mind.
5. What was the best field trip you ever took in school?
I honestly cannot remember if we even had any field trips in school. Maybe they are more liberal with them now.
Possibly related posts: