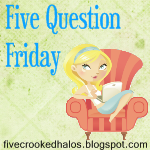 1. How often should adults have birthday parties?
I guess that depends on if the person likes to have birthday parties to begin with but I'd assume every 10th birthday might be important to someone, like 40, 50, 60.
2. What was your room decorated like when you were a child?
It wasn't really decorated. I don't remember having anything on the walls. I wanted to paint them purple because that is one of the colors that is in the logo for Clemson but my mother did not ever want to see a purple wall so I chose orange instead.
3. Do you have any traditions for Easter? If so, what? and do you have a why behind that?
No traditions what so ever.
4. Do you get Good Friday off? If so, any plans?
Good Friday's not a holiday around these parts. I was at work.
5. Did you wear hats & white shoes to church on Easter? (Or was that just in the South?)
I can't ever remember going to church on Easter as a child and that's the only time I ever went. I do remember a lot of hats though just in general for the elderly.
Possibly related posts: