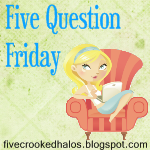 On Saturday! I just wasn't up to getting this done yesterday. Sorry 🙂
1. What advice would you give a newly married couple?
Oh I'm sure I would be the last person a newly married couple would ask for advice as I don't believe in the institution of marriage.
2. Who does more laundry around your house?
Just me. I haven't managed to train the dogs into doing anything domestic as of yet. At least the cat would help me fold laundry … sort of … She would bury all the way to the bottom of the basket to get warm and push all the clothes up to the top so I didn't have to dig for them.
3. What items, if any, do you prefer to buy organic or make yourself?
I'm not really into the organic stuff. I don't see or really taste any difference except that it is more expensive.
4. What book/TV series would you recommend for a friend on bedrest?
I'd go for a British show called Doc Martin. Once you start watching that you just cannot stop. I never went to bed one night because I couldn't stop watching episode after episode. You can watch the 5 seasons on Amazon Prime or Netflix. My ex boss told me I had to watch and sure enough. Hilarious. If you work in the medical field you can't help but get engrossed in the series. There will be a 6th season filming sometime this year so we probably won't get it on BBC America until next year.
Now, if you prefer reading. The Harry Potter series or the Hunger Games series.
5. So, they say it's Spring now…what does your "spring" look like at this very moment?
Dark, cloudy, dreary, cold, wet, icky. Where's the sun and the hot weather?!?
Possibly related posts: