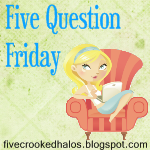 1. What is one thing you wish you did not have to teach your children?
I do not have children but I would assume it would be difficult to teach the children about sex.
2. What are you going to use since Google Reader is going away?
I haven't a clue. I'm testing out RSS feed readers right now. Everybody seems to be going to feedly but I'm not sold on it yet because I like the sidebar of the list of feeds I have and feedly does not do that.
3. British comedy; Hilarious or strange?
I think it is hilarious. If you get the chance go on your Amazon Prime or Netflix and watch the series called Doc Martin.
4. Do you prefer card games or board games?
I actually like both but card games more so over board games.
5. Will winter ever end?
I'm beginning to wonder even though the temps for this weekend will be in the high 80s. Just last night we have a frost warning 😕
Possibly related posts: