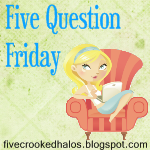 1. Does your family coordinate clothing for church on holidays like Easter?
Uh no. My family doesn't coordinate anything together.
2. How do you get out of a funk?
Hmm, hanging out with friends, watching a movie, listening to music. Pretty much anything to occupy my mind from whatever was annoying me to begin with.
3. Online friends – real friendships or not?
I do have some real friendships from getting to know online people. Some are local that I see way more often than the some far away.
4. What is the one food you must eat in a restaurant (not make yourself)?
Usually any kind of pasta or if it happens to be a really good restaurant I'd have to try one of the deserts, especially any kind of cheesecake.
5. What would happen in your home if you ran out of ketchup?
No more ketchup with tater tots. I think this has happened once or twice because I forgot to put it on a list and it just means that whatever I made before looking to see if I had ketchup wouldn't be as tasty as if I had ketchup to put on it.
Possibly related posts: