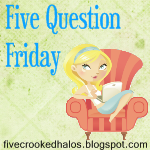 1. What was the most productive thing you have done this week?
Well, once I start and complete the paper that is due today that will be it lol. Then I have 5 quizzes that are due by Sunday midnight.
2. Enjoying the winter or ready for spring?
Soooo ready for summer. We don't really get a spring here.
3. Are you an introvert or extrovert? Is your spouse the same as you?
I would be considered an introvert. Not necessarily shy just more of a loner.
4. Would you rather go without music or television for 1 year?
I could go without music for a year because you know, there is music on TV :p
5. Have you ever been truly scared of someone?
At first sure, but once I got to know the person then no.
Possibly related posts: