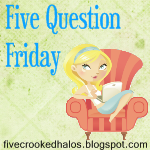 1. What holiday do you wish did not exist?
All of them? I've never liked holidays or my birthday. Can't we just skip them all?
2. What is your favorite romance/love movie?
I've never been into watching the romance/love movies. They just seem too cheesy to me.
3. Do you make a big production out of celebrating Valentine's Day?
Heck no, see Question #1
4. What is something weird you did as a child? (or even now!)
I loved brussel sprouts? I kept hearing I was crazy for eating them. Now I'm just a tad OCD about certain things like most people I guess.
5. What makes you love your husband, really LOVE him, you know since Valentines is coming up?
N/A
Possibly related posts: