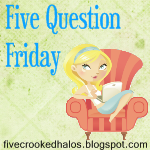 1. What is your favorite book to read with your kids?
N/A
2. After having kids, what body part has changed the most?
I have never had kids but most women I know complain of their stomachs.
3. Would you ever go back to college? What would you study?
I'm back in college now for my second degree, all of them in computers.
4. How do you close a phone call? Bye, bye bye or other?
See ya or bye.
5. What is the one food that will always be your "cheat food" on a diet?
Fried mac and cheese bites or just mac and cheese in general. You can never get enough mac and cheese.
Possibly related posts: