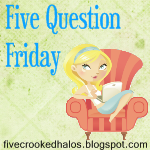 1. If you were going to be stuck on a deserted island, which 5 books, movies, people and foods would you take along?
5 of each or 5 in total? I'd definitely want bananas since they can grow on a deserted island. Do I have electricity for the movies – if so then I'd pick some milk and cheese as well for food? Maybe some Dan Brown novels for the books if I must read them over and over without swapping. I think I'd rather take my dogs than people since they can't sass me back lol
2. What is your thought on year round school?
I think the kids would get burnt out on it if this happened. They need those breaks in there to decompress.
3. What is your most embarrassing potty story? (Can't be one of your kids' potty stories either!) Hee Hee! This cracks me up and stems from a HILARIOUS twitter conversation…
N/A
4. What's the temperature where you are?
Well, we were in the 80s just a few days ago and now it's 52 *brrrr*
5. Are you a winter/spring/fall/summer person?
Summer, summer, summer, please bring back summer and the warm weather.
Possibly related posts: