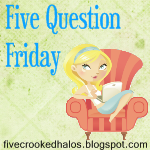 1. Flu mist? Flu shot? Or take your chances?
Neither and what ticks me off the most about how they push this crap is that they tell you that if you take this you will NOT get the flu. Utter bullsh*t. That's not what the fricken shot/mist does. It lightens the symptoms when you do get the flu – that's it! IT DOES NOT PREVENT YOU FROM GETTING THE FLU.
2. Do your kids have iPads? What are some good educational apps? Price?
N/A – no kids. However, when we were growing up computers were just coming out and we bought one and played games on it. Nothing educational was available back then.
3. What are your favorite boy/girl baby names?
I don't have any favorite names but I can tell you from seeing some of the kids come through our department that parents really don't have a handle on what they think they are naming their children.
4. If an apple a day keeps the doctor away, which apple do you choose to eat? (red/green, gala, red delicious…)
Red delicious or granny smith but they MUST be hard and crunchy. If it is mushy and soft I will NOT eat them.
5. What is your favorite place to escape to for peace & quiet, to think? Why?
Oddly enough Starbucks. I can tune out everything and everybody. If I'm at home I am too tempted to turn on the TV.
Possibly related posts: