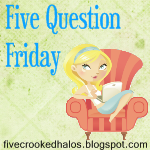 1. Have you set any goals/resolutions for 2013?
Resolutions: Hail to the no. Goal: Find a new FT job in the IT field after I obtain my second degree in May.
2. Have you made any travel/vacation plans for 2013?
Every year I go to our kidney camp in Tennessee and even though I am no longer employed at the hospital I will still be traveling with the kids to the camp because it is run through someone else and I got permission 🙂
3. What room is never cleaned in your house?
Usually the 2nd bedroom because I just use that as my office and there isn't anything on the floor *looks around* per say.
4. What food must be in your house at all times?
C H E E S E ! I can't stress that enough as I'm a cheesaholic lol
5. Are you a hugger or more of a hands off person?
Hands off for sure. Working at the hospital has taught me to stay away from all the germies.
Possibly related posts: