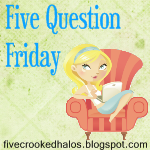 1. If you had to give 1 million dollars to just one person (not your spouse), who would it be and why?
I would give it to one of our patients families. I have become very close to them and know how hard they are struggling financially and with the child having more than one disease.
2. What bathroom stall do you typically go to FIRST?
The furthest from the door.
3. How do you prefer to shop: In-store or online?
Online definitely. I don't like being shoved in all of those crowds.
4. What's the weather like in your neck of the woods?
It's freezing at 43 degrees right this minute.
5. Do you own a pair of Tom's and what do you think? Overrated, underrated or about right?
I have no idea what Tom's are so I'm not really sure how to think about them.
Possibly related posts: