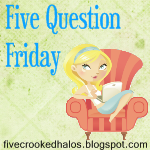 1. If you bake during the holidays, what is your favorite thing to make?
Sadly, I'm not sure anybody would want any of my baking because I like things a little over done and crispy.
2. Present giving: Gift bag vs wrapped box?
If it is already in a box I wrap the box, if it's not in a box I usually put it in a gift bag.
3. What do you keep your thermostat on during the winter/summer in your house?
Winter: 68, Summer 72
4. When thinking of your "Christmas to-do list" what percentage "done" are you?
Right now? I'd save 80% I guess. I still need to buy a couple gift cards and then I'm done.
5. Do you do the "Elf on a Shelf"? If so, is your Elf naughty and what shenanigans has he gotten into?
I need to buy an Elf on a Shelf because those things are so darn cute. I follow someone on twitter who has a male and female Elf on a Shelf and they are always getting into trouble lol
Possibly related posts: