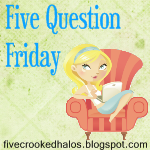 1. Who wakes up in the morning with the kids, you or hubby?
N/A – however if you are referring to my furkids that would be me. I'm the doorwoman. :/
2. Do you watch the World Series even if your team isn't in it?
Nope, never liked baseball so I avoid watching any time with that sport.
3. What is the best compliment you have received?
Usually about my blue eyes. That's really the only part I like too.
4. Do/did you dress up to take your kids trick or treating?
We were able to go trick or treating while living in Germany but not when we got back to the states if I recall correctly.
5. Do you have a favorite bible verse? What is it and why?
Nope.
Possibly related posts: