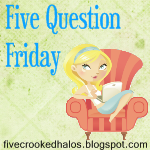 1. Did you have any homecoming traditions?
No but we had an end of school tradition for the seniors. Each year the seniors did a prank and left it on school grounds somewhere, somehow, some way. I remember one year a VW Bug was literally up in the visitor side football stands. Seriously!
2. Do you ask your spouse before spending money?
I have only myself to ask since it is just me and the dogs.
3. If you could be famous for something what would it be?
Hmm, not really sure.
4. Have you ever seriously thought you were going crazy?
Loads of time.
5. How do you eat your steak? Burger? (as in, well done, medium, still moo-ing…)
Burgers: If it's pink, send it back. I really do not want to get hemolytic uremic syndrome from tainted meat. As for steak? I don't eat it.
Possibly related posts: