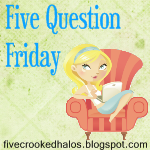 1. What album/cd/download are you embarrassed to admit you have?
Wow, there are so many I wouldn't know where to begin at this point.
2. What's the one thing your spouse does better than you?
N/A
3. When do you start buying Halloween Candy?
I actually don't buy Halloween candy. When I was still at the hospital my nurse would always drop candy off to my desk when she would come to the office.
4. Family closets – Yay or nay?
As in gossip or literally a closet? I have no literal closet but I'm positive every family has a hide all closet of something or other.
5. Which home/cleaning chore do you hate the most? Why?
Vacuuming. Collecting ALL the dog fur is a challenge which is never done.
Possibly related posts: