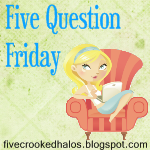 1. What is the funniest thing you saw on Facebook/twitter this week?
Hmm, I cannot pinpoint one exact thing on twitter. I know a few things cracked me up to go through all the logs from other people would take hours. I don't use facebook so I have no idea what's going on there.
2. What is your favorite Olympic event?
Swimming
3. Do your kids to chores around the house? If so, what are they and how old are the children? Do they get paid for them?
Since I have no kids I'll discuss my childhood chores. Yes we had some I think I was 11/12? Dishes, clothes, vacuuming. We received a weekly allowance for a couple years than nothing I believe. It's been a long while.
4. If you get bad service/food do you complain or keep quiet?
Depends on how bad it is and where I am. If it's the usual place I'll say something and sometimes send it back. If it's some place I don't normally go I might let it slide.
5. If you could pick ONE frivolous item for your home, what would it be? (massive room sized closet? swimming pool? greenhouse? etc…)
Definitely an inground swimming pool but I rent so I can't :/
Possibly related posts: