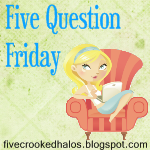 1. What do you call them- flip flops, sandals, thongs, or slippers?
Well flip flops are flip flops, sandals are sandals, thongs are the butt floss I care not to see on a beach, and slippers are slippers.
2. Are you a "my kids can do no wrong" kind of mom or a "Johnny punched you? Well what did you do to him first?!" kind of mom?
N/A
3. Would you confront a good friend that looked/looks down on your husband/significant other?
Depends if there comments being said behind the persons back.
4. Biggest pet peeve?
Improperly pronounced words. Drives be absolutely fricken crazy.
5. What's your favorite take out meal?
Hmm, I'd have to say chinese. Chicken and broccoli over pork fried rice pretty please.
Possibly related posts: