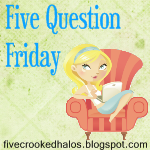 [1]
1. What's your view on men wearing sandals (yay or nay)?
I'm for it so long as they stop wearing socks with them. I just cannot fathom why this happens.
2. What song do you love but are embarrassed to admit?
Hmm, I don't really love any one song enough to say that but I guess I have listened to a couple Selena Gomez songs I like but would never cop to face to face lol
3. What summer camp should they make for moms?
Well, my ideal camp would be an intense work out regime with some cooking classes and swimming with tanning.
4. What is the most romantic song? (Not necessarily your favorite or your wedding song…)
Hmm, never really thought of one being romantic. It really could be anything that moves you.
5. Do you have an embarrassing pregnancy story?
Nope, never been pregnant.