Archive for December 7th, 2012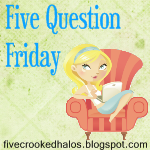 1. How many times have you moved and do you have any tips?
I can't count how many times over the years but I can say that where I am currently at I have been here for over 10 years. Best tip for moving is to get your hands on Xerox paper boxes. Best boxes EVER! They stack well and are very, VERY sturdy.
2. Do you have a budget for the holidays, or just keep sliding the credit card and have a heart attack in Jan?]
I do not own credit cards. I usually buy gift cards for most everybody.
3. What is the one medical thing you avoid like the plague?
Hmm, nothing that I can think of at this point in time. Working at the hospital for 22 years pretty much solves anything squeamish. Although if you got a cold or the flu just stay away from me so I won't get sick lol
4. What your least favorite Christmas song?
The only one that sticks out in my mind right now is Grandma Got Run Over by a Reindeer. Not sure why.
5. This Christmas are you spending more, less or about the same? Why?
About the same. There are only a few people I buy gifts for.